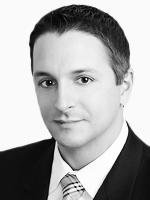 Chris Freeman
Vice President and Head of Litigation
Chris Freeman is a founding member of Blackbird Technologies. He has nearly 10 years of experience working with technology-focused companies, from start-ups to Fortune 100 companies. He is a former partner with the law firm Kirkland & Ellis, consistently recognized as having one of the top patent litigation departments in the world. Before joining Kirkland & Ellis, Mr. Freeman helped found the Chicago office of national litigation powerhouse firm Quinn Emanuel Urquhardt & Sullivan. During his time at these firms, both Kirkland & Ellis and Quinn Emanuel Urquhardt & Sullivan were recognized as "IP Litigation Department of the Year" by the American Lawyer. Mr. Freeman started his law career at the prominent global law firm Latham & Watkins.
He has litigated patent cases in a wide variety of technologies and subject areas, including consumer products, computer and email security, database systems, streaming media, encryption, casino gaming technology, semiconductors, mobile devices and software, automotive components, and business methods, in both District Courts and the U.S. International Trade Commission. Prior to law school, Mr. Freeman worked for Epic Systems Corporation, a leader in health care technology and electronic medical records.
Mr. Freeman received a law degree from Boston University School of Law, where he graduated magna cum laude, and was awarded the Sylvia Beinecke Robinson award for his significant contribution to the life of the law school. While at BU Law, he served as Administrative Editor of the Boston University Law Review. Mr. Freeman received a Bachelor of Science degree from Northwestern University in both Industrial Engineering and Economics, and is a past president of the Institute of Industrial Engineers Northwestern chapter.
Mr. Freeman is a member of the Illinois bar, and is admitted to practice before the United States Court of Appeals for the Seventh Circuit, as well as United States District Courts for the Northern District of Illinois, Northern and Central Districts of California, District of Delaware, Eastern District of Texas, and Eastern District of Michigan.
Mr. Freeman serves on the Executive Board of the Richard Linn Intellectual Property Inn of Court, in Chicago, and has presented  a number of seminars and has published on many aspects of Intellectual Property law.