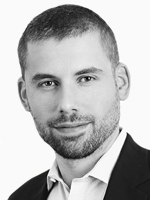 David Gerasimow
Senior Litigation Counsel
David Gerasimow is Senior Litigation Counsel at Blackbird Technologies. He is an experienced patent litigation attorney, having previously practiced at Fish & Richardson, one of the nation's leading intellectual property law firms.
Mr. Gerasimow has successfully represented both plaintiffs and defendants in patent infringement cases, and has litigated cases across a number of technologies, including wireless communications, semiconductor fabrication and testing, natural language processing, Internet billing, peritoneal dialysis machines, telematics and fleet management systems, blood pumps, reactive power compensation devices, and power converters, among others. He has successfully argued dispositive motions, and has obtained favorable jury verdicts in both patent and trade secret cases. He also has substantial experience in large-scale due diligence projects.
Mr. Gerasimow received a law degree from the University of Iowa College of Law, where he graduated with High Distinction and was inducted into the Order of the Coif honor society. He received a Bachelor of Science degree from the University of Wisconsin – Madison, majoring in computer science, mathematics, and history. His prior work experience includes the management and operation of information technology infrastructure at a Fortune 500 company.
Mr. Gerasimow is a member of the Minnesota and Illinois bars and has litigated patent cases in numerous district courts across the country. He is admitted to practice before the United States Court of Appeals for the Federal Circuit, as well as the District of Minnesota and the Eastern District of Texas. Mr. Gerasimow has also been registered to practice before the United States Patent and Trademark Office for over a decade.