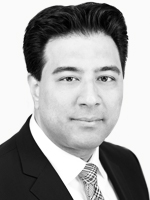 John Handy
Senior Litigation Counsel
John Handy is Senior Litigation Counsel at Blackbird Technologies. Prior to joining Blackbird, he spent nearly ten years as a patent litigator at the international law firms of White & Case and Greenberg Traurig.
Mr. Handy's legal expertise covers many aspects of patent law. As a patent litigator, he has extensive experience before federal courts and the International Trade Commission, representing high-tech and financial Fortune 100 companies in matters involving Internet and mobile applications, operating systems, network communication protocols, relational databases, e-commerce and SSL/TLS encryption, real-time multimedia streaming, medical instruments, and personal navigation devices. He has experience in all aspects of patent prosecution, including appeals before the Patent Trial and Appeal Board, and has worked with inventors to procure patents in the fields of satellite technology and automated manufacturing processes. In addition, he has performed due diligence analyses of patent portfolios in advance of product launches and acquisitions to assess market exclusivity, freedom to operate, and patent validity.
Mr. Handy has a broad and diverse technical background, having worked for five years in the dot-com industry. As an Internet Application Developer, he utilized programming languages, application servers, and databases such as Java, Macromedia ColdFusion, Microsoft Active Server Pages, SQL Server, and a variety of client-side DHTML techniques. As a result, he is skilled at translating complex technical issues into concepts that are understandable and compelling to courts, and highly effective at strategizing and collaborating with engineers and experts.
Mr. Handy received his J.D., cum laude, from Fordham University School of Law, and his Bachelor of Science degree from Cornell University. While at Fordham, he was a judicial extern for the Honorable Victor Marrero in the Southern District of New York, and the Honorable William J. Martini in the District of New Jersey.
Mr. Handy is registered to practice before the United States Patent and Trademark Office, is a member of the bars of the states of New York and New Jersey, and is admitted to practice before the Southern and Eastern Districts of New York, the District of New Jersey, the Eastern District of Michigan, and the Eastern District of Texas.